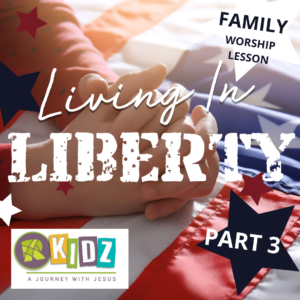 ____________________________
NOTE TO PARENTS: Each of the main points can be taught/discussed over different days throughout the week.
MORE FROM THIS LESSON:
POINT # 1 – STAND STRONG
POINT #2 – SERVITUDE, CONFINEMENT, OPPRESSION
______________________________
POINT #3 – PERSUASION
In the Bible, Jesus and Paul both tell us that there will be people in the world that will try to lead us away from the truth and the teachings of Jesus.  Jesus tells His disciples this in Matthew 24:24 (NLT), "For false messiahs and false prophets will rise up and perform great signs and wonders so as to deceive, if possible, even God's chosen ones."  The enemy does not want us to believe Jesus or follow Him or do what He tells us to do in the Bible.  He will lie to us to try to trick us into believing something different than what Jesus teaches us.  The enemy will speak through other people to trick us, because he wants his plans of evil to win.  He has plans to steal from us, and to kill and destroy all the good and wonderful things we have in Jesus.  
Paul tells us in 2 Timothy 3:12-14 (ERV), "Everyone who wants to live showing true devotion to God in Christ Jesus will be persecuted. People who are evil and cheat others will become worse and worse. They will fool others, but they will also be fooling themselves. But you should continue following the teaching you learned. You know it is true, because you know you can trust those who taught you."  What does the word PERSECUTED mean?  (Allow your child to answer: to treat someone in a mean and harmful way.)  The enemy will speak and act through other people to try to be mean to us and hurt us.  Jesus wants us to know that the enemy will try to be mean and hurt us, but we must look to Jesus and ask Him for strength and truth.  We have the trust in Him and His truth and His words in the Bible and in our heart.  
We know that we can put on the armor of God to be able to stand strong against the enemy.  Paul tells us to, "Put on all of God's armor so that you will be able to stand firm against all strategies of the devil." (Epehsians 6:11 NLT)  He also tells us that we don't fight against people, but against evil rulers and powers of darkness in the unseen world.  He tells us to put on every piece so we can resist the enemy, and if we do this, after the battle is over, we will still be standing.  The very first thing Paul tells us to put on is the belt of TRUTH, followed by the body armor of righteousness.  He says to put on peace of the gospel for shoes, to hold up the shield of faith to stop the fiery arrows from the enemy, to put on the helmet of salvation, and to take the sword of the spirit, which is the word of God.  We have the armor and tools to stand strong against the enemy!
Discussion Questions
Have you ever had someone try to get you to do something that you knew was wrong?  Explain.  What did you do?  

Have you ever done something or said something that you knew was wrong, but maybe you wanted to make your friend or another person happy?  Or maybe you really like that person and you want them to like you, so you do what they do?  Explain.  

Have you ever had others be mean to you or treat you wrong because of something you thought or believed or did?  Explain.

Do you ever do things that you know will make Jesus happy?  Or to try to be like Jesus?  Explain.
Prayer
Jesus, we are so thankful for your teachings in the Bible, your example of how we should live, what we should say and do, and for always telling us the truth.  Thank you for warning us and telling us about our enemy and his plans for us.  Thank you for showing us the truth about his evil ways and plans, so that we will not be tricked or deceived or believe his lies.  Holy Spirit, we ask you to help us to know immediately when the enemy is telling us a lie and trying to make us believe it, or when he gives us a thought to do something wrong.  Help us to be strong and to not give in to the lies and the wrong ways of the enemy.  Holy Spirit we ask you to help us fully trust in you more than anyone or anything in this world.  Help us to always be focused on you and to not be fooled into following something or someone else.  We only want to follow You, Jesus!  We receive your freedom and we choose to live in your freedom!  We pray all of this in the name of Jesus.  Amen.
Scripture Memory Verse
"Put on all of God's armor so that you will be able to stand firm against all strategies of the devil." – Ephesians 6:11 (NLT)
Application/Activity
Worship Song
"Warrior"