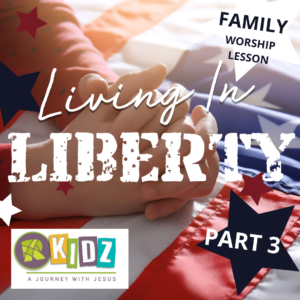 ____________________________
NOTE TO PARENTS: Each of the main points can be taught/discussed over different days throughout the week.
MORE FROM THIS LESSON:
POINT #2 – SERVITUDE, CONFINEMENT, OPPRESSION
POINT #3  – PERSUASION
______________________________
POINT #1 – STAND STRONG
READ
Galatians 5:1 (ERV) "We have freedom now, because Christ made us free. So stand strong in that freedom. Don't go back into slavery again."
Paul, who used to be Saul, is the person who wrote the book of Galatians in the Bible.  Galatians 5:1, Paul tells us that we need to stand strong in this freedom that Jesus gives us.  What does this mean? (Allow your child to answer: to stand firm in your faith, to "hold your ground", do not be persuaded by what you believe)  When we stand strong in a freedom or a belief means we do not let anyone change our minds about the freedom that Jesus died to give us.  When we read God's word and His truths, we must not let anything or anyone try to tell us any different.  We know Jesus always tells us the truth and everything written in the Bible is the truth.  
Sometimes people believe something different than we do, and they will try to tell us what they believe and why we should believe what they do.  They may try to change our mind or the way we think or believe.  Even what we think about Jesus.  But, we know that ALL truth is found in the Bible and in Jesus Christ.  Jesus told us in John 14:6 that He is "the way, the truth and the life."  And, that no one is able to go to God the Father except with Jesus.
We must put all of our faith and trust in Jesus.  He loves us more than anyone ever will!  Remember, He freely chose to be nailed to a cross and died for us, to forgive us of our sins, so that we can be free from our sins and we can know Him and God the Father and can have eternal life.  He loves us so much more than we even know!
Discussion Questions
What are some things that you know about Jesus?  Who is He?  What is He like?  How does He feel about us?

Has anyone ever tried to tell you that something you believe in isn't true?  What did you say?  Did it make you change your mind or believe something different?
Scripture Memory Verse
"We have freedom now, because Christ made us free. So stand strong in that freedom. Don't go back into slavery again." – Galatians 5:1 (ERV)
Prayer
Jesus, we thank you so very much for your love and for the freedom that you have given us.  We are so thankful that you have made us free!  Thank you for telling us the truth and for the Bible that we can read to know the truth.  Holy Spirit, help us to remember the truth when we read it in the Bible.  Help us to stand strong in the truth of God, in what we read in the Bible and what Jesus shows us and tells us.  Help us to remember that Jesus is the only way, the only truth and the only way to eternal life.  May we never listen to the lies of the enemy, but remember the TRUTH of GOD in our hearts.  Guard our hearts and minds, Jesus.  We love you so much!  We pray all of this in your holy name.  Amen.
Application/Activity
Worship Song
"Freedom"