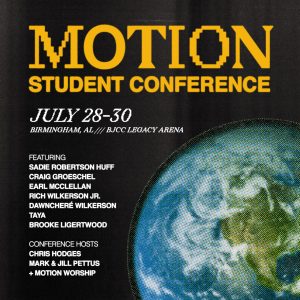 JULY 28 – 30
REGISTRATION DEADLINE JUNE 26TH
High School & College Students
MOTION has never been about a conference; it's never been about lights, bands, or speakers. It's always been about one thing: a generation of young people, empowered by Jesus, putting their faith into MOTION every day. 
We see a world that is restored by His love, rooted in His Word and reflecting His light. It is our prayer that students and youth leaders leave the conference refreshed, equipped, and inspired to be released and live their lives in MOTION at home, in the local church, in their cities, and around the world.
Who can go? If you are entering 9th grade in August 2022 and currently enrolled as a college student come join us for this amazing experience! This
conference is for High School & College Students.
What is the cost? Because we want to invest and see to it that you do not miss this great opportunity we are asking that you only pay a portion of the total cost for the conference.
Cost: $30 per person (fee is non refundable)